Kosair's Christmas Party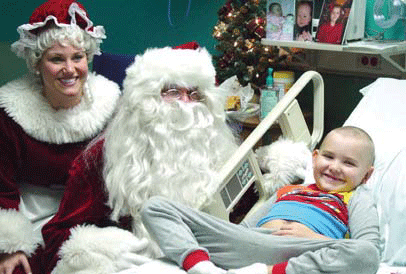 For the past 16 years, IPA pilots have taken time out of the busy peak season to deliver a little holiday cheer to a place where it is most needed; Louisville's Kosair Children's Hospital. The annual IPAFoundation Christmas Party has become a wonderful tradition and on December 21, that tradition continued as nearly two dozen pilots, family members and IPAstaffers joined Santa and Mrs. Claus to deliver toys and refreshments to sick children and their families.
It was a welcome break for Jennifer Melson and her seven-year-old son, Jordan, who had been in and out of the hospital for the past month. "This is so nice that the pilots do this," said Melson. "We really appreciate it." It was also a welcome break for the family of a three-and-a-half year old boy, Leo, who was not feeling well after undergoing chemotherapy. "We've got another year of treatment, we're all very tired. It's great to see Santa and the pilots," said Leo's mother.
"I can't tell you how much this means to our patients," said Dr. Steve Wright, Medical Director of Kosair Children's Hospital. "They will remember this for years to come."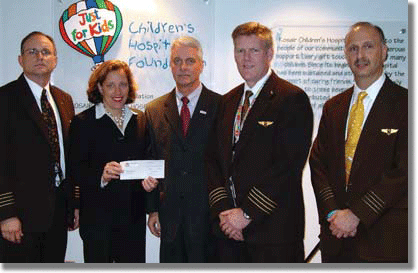 The IPA Foundation trustees presented Dr. Wright and the Kosair Children's Hospital Foundation with a check for $25,000. To date, the Foundation has given more than $500,000 to purchase such items as a Pediatric Ambulance on wheels, which now has 200,000 miles on it in just 18 months.
"This is an event we look forward to," said IPA Foundation Trustee Chris Dabbikeh. "It's nice to bring a smile to a child's face and to know that you're raising their spirits during a difficult time. It means a lot to the kids and to our pilots," added Dabbikeh.
The IPA Foundation Christmas party is one of many annual events sponsored by the Foundation. Since it was founded, the Foundation has donated more than $1.5 million to children's organizations around the U.S.
Organizations that benefit from the IPA Foundation include:
Home of the Innocents, Louisville, KY
Our Children's House of Baylor, Dallas, TX
Arnold Palmer Hospital forWomen and Children, Orlando, FL
Boy Scouts of America, Lincoln Heritage Council, Louisville, KY
The Silver Lining Foundation, CO
Orbis International, NY
Deborah Foundation, NJ
Parseghian Medical Research Foundation, AZ
Make a Wish Foundation, VA
The IPA Foundation is currently made up of 450 crewmembers and IPA staffers. IPA dues do not go toward the Foundation. If you would like to join or make a one time donation, please visit the IPA Foundation page on the IPA website.