MISSION STATEMENT:
The IPA Foundation is dedicated to providing for the well being of children and their basic needs with a focus on making life changing differences for children with exceptional medical requirements.
Foundation Info:
Since the early days of our association, the IPA leadership has felt it was important for the membership to be represented to the public in a philanthropic endeavor. Therefore, the Independent Pilots Association Foundation, or IPA Foundation, was officially formed in late 1993. The first fiscal year began on July1, 1994 and since then the Foundation has functioned as a separate entity, entirely self-sufficient, operated solely from the donations received through its members. As a separate entity, the IPA Foundation conforms to existing labor laws as well as sec. 501(c)(3) of the IRS code.
If the Foundation is to continue to further its efforts and increase the scope of its impact, we must seek to involve each and every member of the association. As many of our founding foundation members retire, we look to you to help the foundation continue its mission. By joining your fellow crewmembers and supporting the foundation, you can make a difference.
Foundation Assistance Request Form
Foundation Articles:
"Thanks Foundation" - Ky Autism Awareness License Plate Project
Posted: 04/07/2008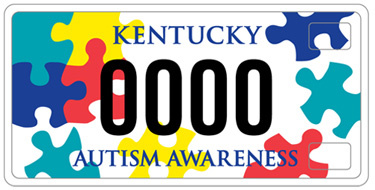 I wanted to take a moment to say THANK YOU for your donation that will allow for the manufacturing and distribution of Autism Awareness license plates here in Kentucky. I am a parent of a child with autism and hope that the license plates will increase the level of awareness of this condition in our communities. If just one person sees my license plate and is inspired to seek more information on autism or in some way becomes an advocate then my hopes in this license plate program will be fulfilled. Thank you for making this opportunity possible !!!
Jim Furnish
Father of a child with Autism.
Thank you all so much for your generous donation. My family has been selected to receive two plates. Our six year old son has Autism and it means so much that so many are now helping to fund research and information awareness.
Regards, The Begley Family
Thank you all so much for donating money for the Autism Awareness license plate. I will receive one of the donated plates and am so happy to be able to have this for my car. I think it's quite a generous gift that you all gave and our state needs much support for all of our kids and adults with autism. I think this will make a big impact!
Thanks,
Sarah Cordle
Hi, I will become the recipient of one of the license plates that became available because of your generous donation. Your donation will assist the state of Kentucky to be a more progressive state when it comes to awareness for our kids not to mention boost the morale of parents like myself. I want to thank you so much for this gift!
Sincerely,
Lisa Bradshaw
Mother of Son, Dane, 8 years old
Hello my name is Tina Downs and I am the mother of a Autistic child. I wanted to take this opportunity to Thank you for donating money for the Ky Autism Awareness License Plate Project. Your generosity means so much to the children and families that have been touched by Autism. It is so important to get the word out about this disease/disorder as it affects now 1 in 150 children. Your kindness will always be appreciated by the Downs family.
Thank you again,
Tina Downs
My name is Carol Cooksey and I live in Ashland Kentucky with my husband Ben and our 10 year son Benjamin. Benjamin was diagnosed with Autism at the age of three. This began a journey in our lives unlike no other. Through it all one thing has stood clear, that our son would get everything that he needed. We know that we will never know why we were given this "special" assignment in life, but we do know that it is one of our many responsibilities to education and inform people within our community about son and people like him.
Thank you for your donation to help complete Natalie Pope's wonderful Autism Awareness license plane project. Natalie has a brother with autism and I know that this project was dear to her heart. You may never know the impact that this kind of awareness will have on our children. It is so important (and helpful) that people understand the obstacles that people with autism face each day. I am amazed by the accomplishments of my son and just how hard he has worked from one year of age to learn to do what we think of as the simple act of talking. I am also amazed at how autism has changed over the last 5 years - more awareness which means better services! Your gift will mean more awareness and better lives for our children!
Again, thank you for your kindness and generosity. Your impact will go far!
Sincerely,
Carol, Ben and Benjamin Cooksey
I just wanted to thank you for your generous donation that enabled the Ky Autism Awareness License Plate project to be completed. As a mom of a child with autism, it means everything to me to spread awareness of this disorder so people will understand and accept my child for who he is. Thanks for contributing to a way that will make awareness more possible.
Sincerely,
Tanya Hardesty
Just wanted to extend my appreciation for your donation. I am a single mother of a 5 year old autistic son. I really wanted to participate in purchasing a license plate but with limited funds I couldn't. Thanks so much and may God bless you guys!
Allison and Mason
Thank you so much for the donation! We have waited so long for the Autism Awareness License Plates. Many families feel alone when they get a diagnosis of autism for their child. By driving around with the new plates and raising awareness, it shows people they are not alone and it spreads hope. Thanks again for your generosity.
Paul Gatewood
Just wanted to take a moment and thank you for the opportunity to receive an Autism License Plate free of charge! I teach Special Needs children and several are Autistic! I will drive proudly with this license plate!
Thank you so much,
Susan T. Rogers
Special Education Teacher
Mercer County Elementary

IPA Foundation Celebrates a Decade of Fun at DFW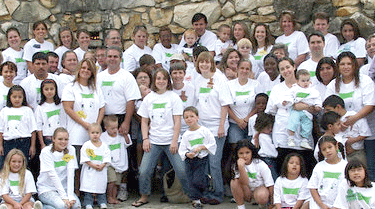 This past Sept., the IPA Foundation's DFW Our Children's House at Baylor Camp celebrated its 10 year anniversary. Over the past decade, the camp has allowed more than 1300 participants to get away from the hospital and therapists and enjoy a fun weekend of fishing, canoeing, archery, and all the 'normal' summer camp stuff. Equally important, the camp also provides the opportunity for parents and siblings to begin a network of support.
IPA Foundation Trustee John Duhe says each year he, Tim Bryan and other Foundation members are privileged to attend the camp and visit with the children. Duhe wishes to pass on the many heart felt 'Thank Yous' they receive from the families of the children who attend the camp.
"We would also like to say thank you to the generous IPA crewmembers and staffers who have made donations to the IPA Foundation through payroll deduct or one time donations," said Duhe. "You've given these special needs children an opportunity to forget about their problems and just have fun. This camp is proof that your donations to the IPA Foundation are making a difference in the lives of so many children."