Latest Updates
Extensive Media Coverage

Date: 09/17/2014 11:15 AM
There has been extensive media coverage of the Sept. 9, 2014 NTSB meeting on the crash of UPS Flight 1354, in which fatigue was cited as a contributing factor. The crash claimed the lives of Captain Cerea Beal Jr. and First Officer Shanda Fanning.
In announcing its findings, the NTSB highlighted the effect fatigue and operating during a time of circadian low likely had on the flight crew as they operated into Birmingham in the early morning hours of August 14, 2013. UPS's safety culture also drew criticism from the Board.
Wall Street Journal Ad
The IPA, in the following Wall Street Journal ad from Wednesday, Sept. 17, 2014, urged UPS to work collaboratively with its pilots to fix the Company's safety culture.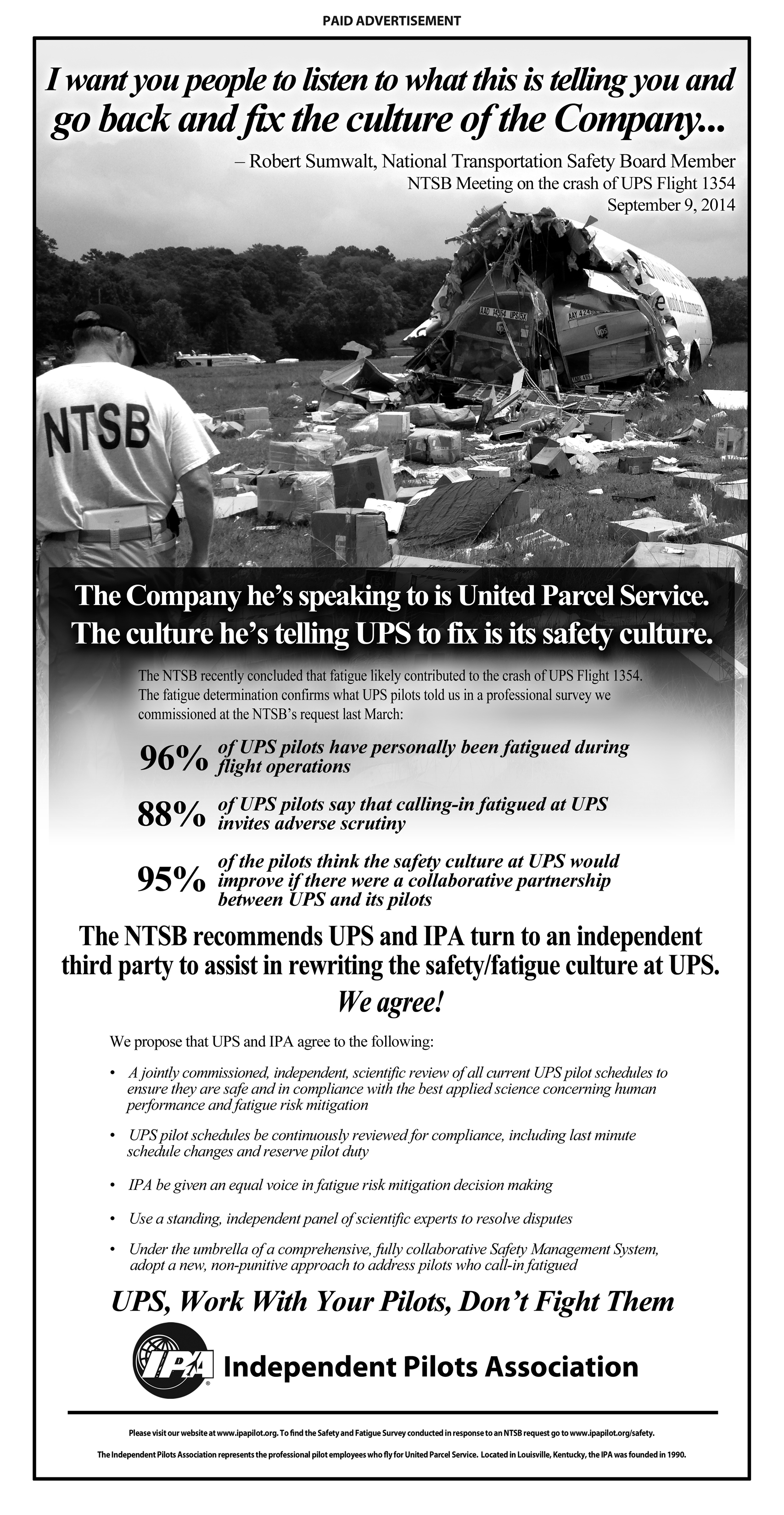 Guest column from former NTSB Chairman Jim Hall and former NTSB Managing Director Peter Goelz: Cargo Pilot Hours Should be Regulated, Too – USA Today
Top headlines following NTSB's UPS Flight 1354 meeting on Sept. 9, 2014
C-SPAN coverage of FAA Federal Air Surgeon Dr. James Fraser speaking about the cargo carve-out during the August 7 ALPA Air Safety Forum on Pilot Health:
Dr. James Fraser, FAA Federal Air Surgeon, discussing Part 117 cargo carve-out at 2014 Air Safety Forum.
84 WHAS - Flight 1354 Anniversary

Date: 8/13/2014 3:00 PM
84 WHAS' Terry Meiners talks about the first anniversary of the crash of Flight 1354