Latest Updates
UPS Pilots Remain Committed To Delivering This Christmas Despite Unresolved Contract
Release Date: 10/23/2014 4:00 PM
LOUISVILLE, KY, October 23, 2014 – "Will United Parcel Service deliver this Christmas? That's the question that manufactures, shippers, retailers and consumers have been asking. While we can't speak to all aspects of UPS's operations, we can say that, despite UPS not finalizing our contract, we remain committed to delivering this Christmas season," said Independent Pilots Association spokesman Brian Gaudet.
Gaudet went on to say, "UPS has done a lot to avoid a repeat of last year's holiday delivery troubles: it developed and funded a $175 million Peak Plan; finalized its labor contract with the Teamsters; increased its seasonal hires by seventy-three percent. But UPS didn't do everything it needed to; UPS neglected its air operations by not finalizing the contract with its pilots. We are now in our fourth-year of contract talks with UPS. Notwithstanding this drawn out negotiation, the IPA remains committed to delivering this holiday season. But we encourage UPS, for the benefit of its customers, to close out this critical unfinished business."
To help make this point, the IPA has taken out full-page ads, copied below, in the Asian, European and Eastern U.S. editions of the October 24 issue of the Wall Street Journal.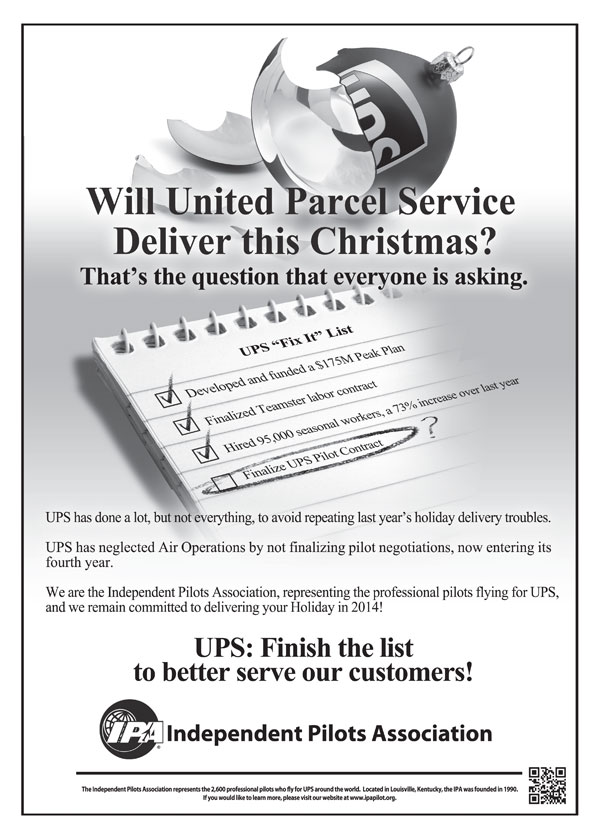 Extensive Media Coverage

Date: 09/17/2014 11:15 AM
There has been extensive media coverage of the Sept. 9, 2014 NTSB meeting on the crash of UPS Flight 1354, in which fatigue was cited as a contributing factor. The crash claimed the lives of Captain Cerea Beal Jr. and First Officer Shanda Fanning.
In announcing its findings, the NTSB highlighted the effect fatigue and operating during a time of circadian low likely had on the flight crew as they operated into Birmingham in the early morning hours of August 14, 2013. UPS's safety culture also drew criticism from the Board.
Top headlines following NTSB's UPS Flight 1354 meeting on Sept. 9, 2014
Guest column from former NTSB Chairman Jim Hall and former NTSB Managing Director Peter Goelz: Cargo Pilot Hours Should be Regulated, Too – USA Today
C-SPAN coverage of FAA Federal Air Surgeon Dr. James Fraser speaking about the cargo carve-out during the August 7 ALPA Air Safety Forum on Pilot Health:
Dr. James Fraser, FAA Federal Air Surgeon, discussing Part 117 cargo carve-out at 2014 Air Safety Forum.